MASSAGE and SPA SUCCESS
Coaching Club and Course Library
Is this you?
You are an excellent practitioner but you still have openings to fill in your schedule
You have big plans for your marketing and your business, but you just don't know what practical steps to take
You love what you do and you need to make more money
You know you would be booked solid if you could just get clients in the door
You have a vision for your business and you are looking for mentorship and fresh ideas
The Massage and Spa Success Coaching Club is here to help you reach your goals!
Member Benefit #1
Monthly live business-building challenges and workshops. Take action and watch your business grow!
The Effortless Upgrades Challenge starts April 3!

Member Benefit #2
Monthly live coaching calls with Success Coach Gael Wood!
If the live time doesn't work for you, use the google form to submit your questions in advance. Coaching Club members also get discounts on one-to-one coaching and services.

Member Benefit #3
Unlimited access to the Massage and Spa Success course library of business, marketing, spa, and income-generating programs! These courses usually sell for between $49-$99 each. CE credits are just a $5 per credit hour upgrade for approved courses.
Join today to lock in your discount, get the April Challenge Effortless Upgrades, and receive your bonus ebooks and planners!
Who says having a coach has to be expensive?

With the Kajabi App, you will have access anywhere. It's like having your very own coach in your pocket. Learn the skills of successful wellness entrepreneurs and grow your massage or skincare business today!
Monthly Challenges, Classes and Coaching Calls
Meet with Gael Wood on Zoom each month to get your questions answered! Can't make it live? No problem. Email your questions ahead of time.
Access pass members also receive special discounts on coaching calls and other Elevate with Gael programs
Expert Guest Presentations
Learn from industry experts and leaders! Our guest experts are sharing their knowledge on a variety of topics including self-care, business building, marketing, mindset, and more!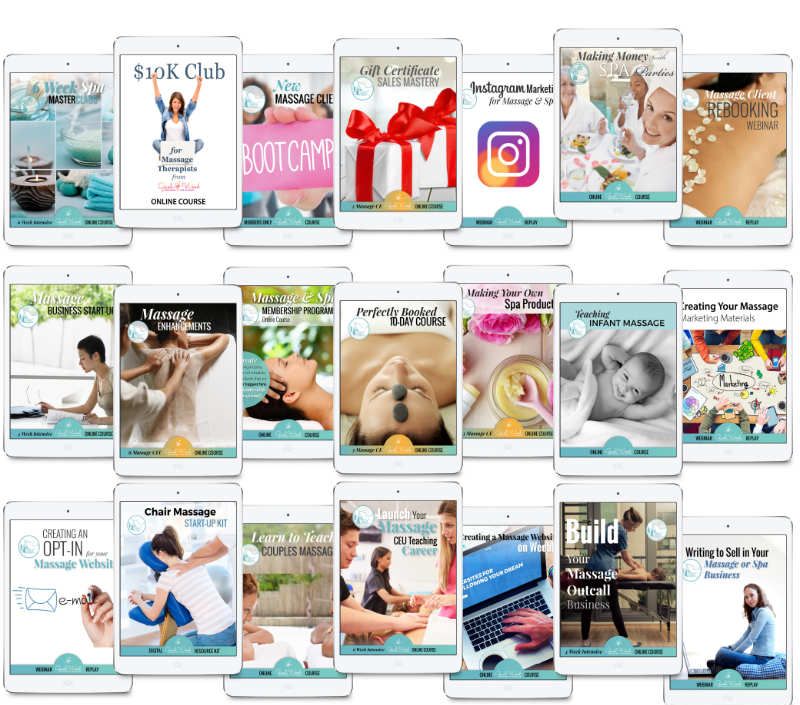 The Complete Massage and Spa Success Library
30+ Business, Marketing, Customer Service, and Spa Courses covering every aspect of running a successful massage or spa business.
Learn and Grow with the Massage and Spa Success Library:
Promote your services with confidence
Reschedule your clients and stay booked solid
Start your membership program
Save your hands and make more money with spa services
Establish yourself as an expert
Teach classes in your community
Update and uplevel your website, marketing materials, and social media
Add new income streams with retail, spa parties, and onsight massage
Have access to the resources you need wherever you are on your business journey
Take action on what works to bring in the clients and the money!
Use what you need to create your dream business
This is everything they don't teach you in school!
Business basics and planning for success
Attract new ideal clients consistently
Keep clients coming back for regular sessions, referring and purchasing gift certificates
Adding income streams and staying excited about your career
Skills to create a business that you love without burnout
I'm Gael Wood, and I LOVE Marketing and Massage Therapists!
I have 28 years of experience in the massage and spa industry as a Licensed Massage Therapist & Esthetician and successful entrepreneur.
In the resource library, I've combined my ideas and experiences with other industry leaders and a monthly coaching call to give you the best resources and an amazing price because I want you to have everything you need to build your dream business and help to heal the world, one body at a time!
What Massage and Spa Success Students are Saying!
Patty Wade
I didn't know that was what I wanted until I had to sit down and really put effort into figuring this out (on paper). These are all really great things. I am now redoing the work. Funny how many of my ideas have changed into something that suits me more than my idea of what I should do. I just want to thank Gael Wood for helping me to get things going on the right path and find my real dream. I am so excited to grow my business and I now have a plan to get that done. I even just picked up a new corporate massage opportunity. If you are on the fence thinking "is it worth the time and money for me?" The answer is YES!
Laura Hickman
Gael is an AMAZING leader! She demands a lot of her students. She keeps a really good pace in the teachings. She is so open and willing to share her experience and knowledge. She opens doors in your mind and gives you confidence and ideas to grow yourself. Not only as a person but also as a business owner! I have found so much value in this bootcamp. It is definitely worth the investment of your time and money. You WILL grow. You WILL be better. Your BUSINESS will explode!!! Thank you so much Gael for helping me save my business.
Elanor Sung
Last year I did the Marketing Bootcamp and it took me almost 4 months to complete it. My 5 year goal was to quit my job and be fully independent. I hit my 5 year goal this next week. My last day working for someone else is next Wednesday and I will be fully independent and a business owner. You were one of the sparks that lit the fire, and I couldn't be more grateful!
Elisa Dessner Coffman
Thank you for helping me build my practice during the holiday season with all of your shares and inspiration! I'm a sole practitioner with an at home business.
I was able to see 15 new clients, sold 10-6/8 massage packages, sold 7-2/60 minute+free 30 min packages, sold 10-60 minute+free 15 min upgrade certificates, sold 5 online gift cards (new feature) and 5 users of new online schedulers (2 of them new clients).
Roughly $6000 value.
Pricilla Davis
Just want you to know that what you do IS really important. What you teach doesn't come naturally to many people like me. You are giving us tools that will not only allow us to grow our practices, you are giving us an opportunity to provide a decent-paying wage for other Therapists that aren't entrepreneurial. You're helping us provide for our families and still enjoy them. That's HUGELY important.
Zoe Nicholson
My Massage Spa Success Membership helped me get out of my slump and back on track, with a growing client base who rebook! The courses cover all aspects of marketing, social media, planning, extra services, gift vouchers, how to attract clients and how to keep them. Every day there is something new to implement, and this stuff is so practical.


Megan Carver
Congratulations! I wholeheartedly agree with being consistent. You've helped me in a major way with being more consistent in business, which led me to being more busy, which is making me more successful and now the place I am at just hired 2 new LMT's and I can't wait to introduce them to you and everything I learned since I found you. <3 Please don't ever stop teaching!
Darlene Sochin-Maras MS, RMT
I want to again thank you for your material. It has been more helpful than all of the business coaches I've had and the 100's workshops I've taken over the course of 5 years. So full of gratitude.
Roz Bucholtz
I reviewed my gift certificate sales figures for last Christmas - thought I had sold 12, but no it was 6 … This Christmas, with Gael's guidance, I set my goal of 40 certificates… missed my goal by 2 - I sold 38!!! Excellent! Thanks Gael Wood!
Frequently Asked Questions
Is the material copyrighted?
What is the refund policy?